Vital Signs Management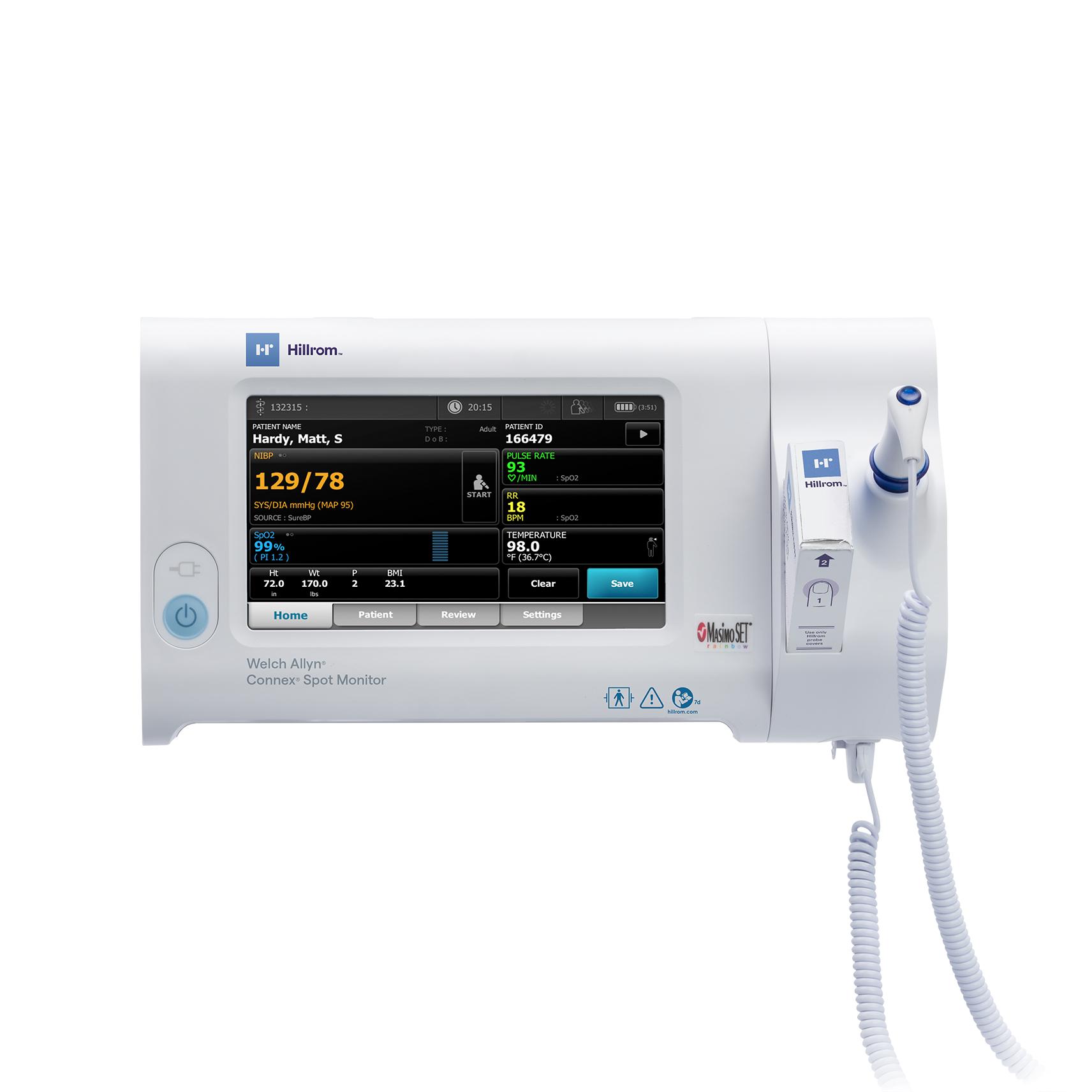 Connex® Spot Monitor
Collect a complete set of resident vitals in under a minute and transmit them wirelessly to your EMR with the Welch Allyn® Connex Spot Monitor.
Collect and document blood pressure, temperature, SpO2 and more with an easy‐to‐use full touchscreen interface.
EMR connectivity makes it easy to identify residents and send their vitals directly to their charts—right from the bedside.
Provide accurate and more comfortable blood pressure measurement in just 15 seconds with SureBP® technology.1
Choose between SureTemp® Plus Oral/Axillary and Braun ThermoScan® PRO 6000 Ear Thermometry to meet resident and clinician needs.
Select from leading SpO2 technologies from Masimo®, Nellcor® or Nonin®.
Automatically transfer weight from Detecto, Health o meter® and SECA scales.
Accurate, Automated Vitals Data Transfer
The Connex family of vital signs devices can automatically document and transmit resident vitals directly to your EMR. The Connex Electronic Vitals Documentation System is designed to help long‐term care facilities improve:
Timeliness and efficiency: Reduce duplication of efforts and delays in entering data. Vitals transmit directly to residents' electronic records so clinicians have information at their fingertips to help them provide better care.
Quality of care: Proactively improve care plans and address risk management implications with accurate, timely vitals.
Accuracy: Wireless connectivity between the Connex devices and the electronic medical record can help reduce the opportunity for manual transcription errors.
Regulatory and policy compliance: Data is time‐stamped and dated, leaving an audit trail for complete accountability.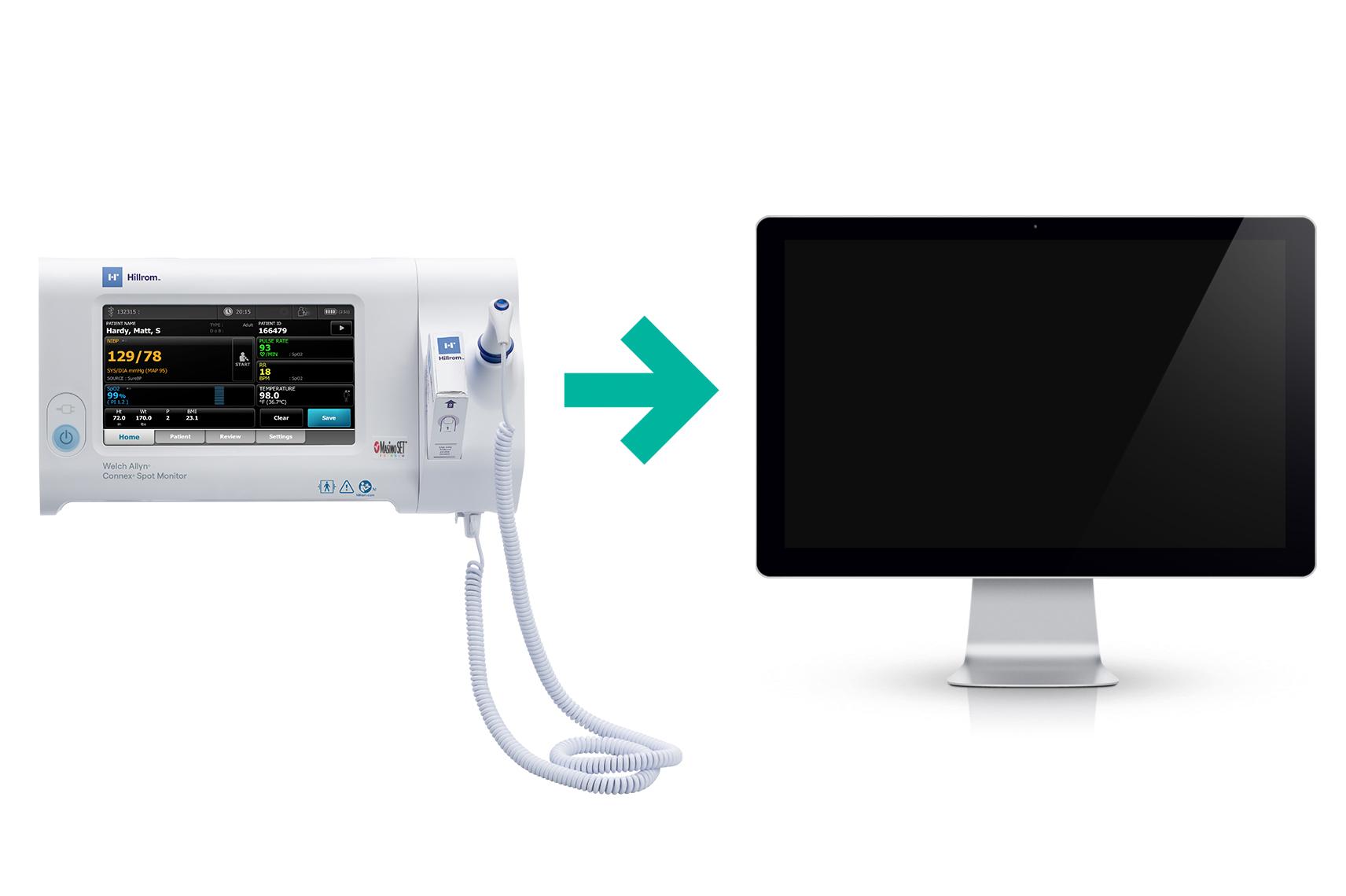 Connecting vital signs saves time at Martin Luther Care Center: 
"I have saved an estimated ten minutes per round by using the Welch Allyn Connex Vital Signs Monitor... I can use this extra time to care for my patients, tend to other tasks and possibly cut down on overtime. Not to mention the residents are safer because the human error factor associated with writing down vital signs has been eliminated. Any time-saver we can give front line staff is valuable—and safety is the number one concern for all our residents. This solution addresses both critical needs."
— Coral Lindahl, RN-BC, CLNC, C-NE, RAC-CT, CCN-C, CPRA
PCC Coordinator, Fairview / Ebeneezer Care Centers
Cardiopulmonary Devices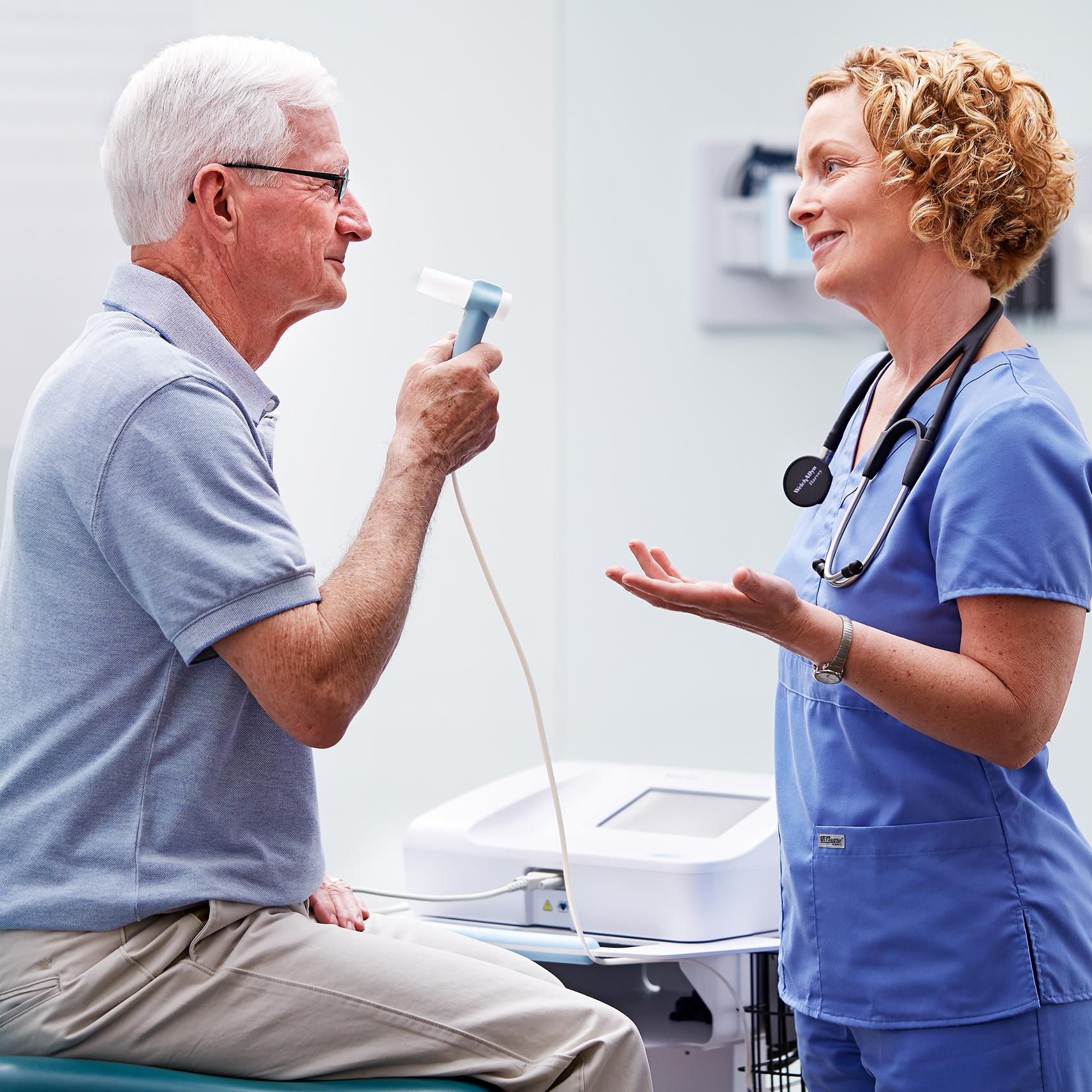 Welch Allyn ECG devices help long‐term care facilities keep valuable procedures in house instead of sending residents to hospitals. With our comprehensive line of resting ECG devices, you can:
Enhance resident safety by conducting tests in house immediately, while symptoms are occurring, so conditions can be quickly identified and addressed
Improve financial outcomes by reducing money spent on hospital transport and outsourced ECG costs, in addition to retaining reimbursement dollars
Reduce hospital admissions—and the time and money that come along with them
Additional Solutions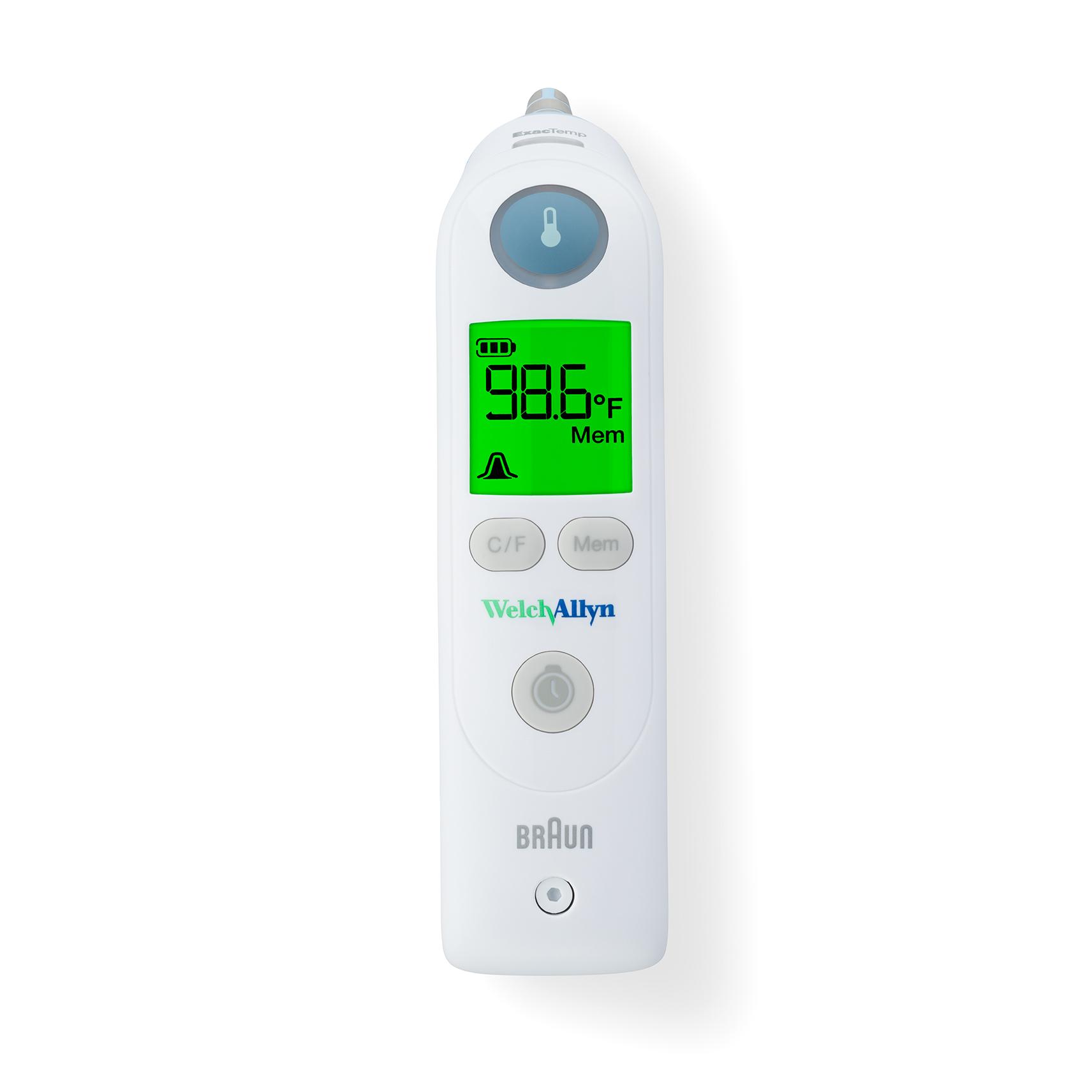 Braun ThermoScan® PRO 6000
Clinical studies have shown that the ear is an excellent site for measurement as temperatures taken in the ear reflect the body's core temperature.2 The Braun ThermoScan PRO 6000 ear thermometer captures accurate, reliable temperatures in a comfortable way for residents.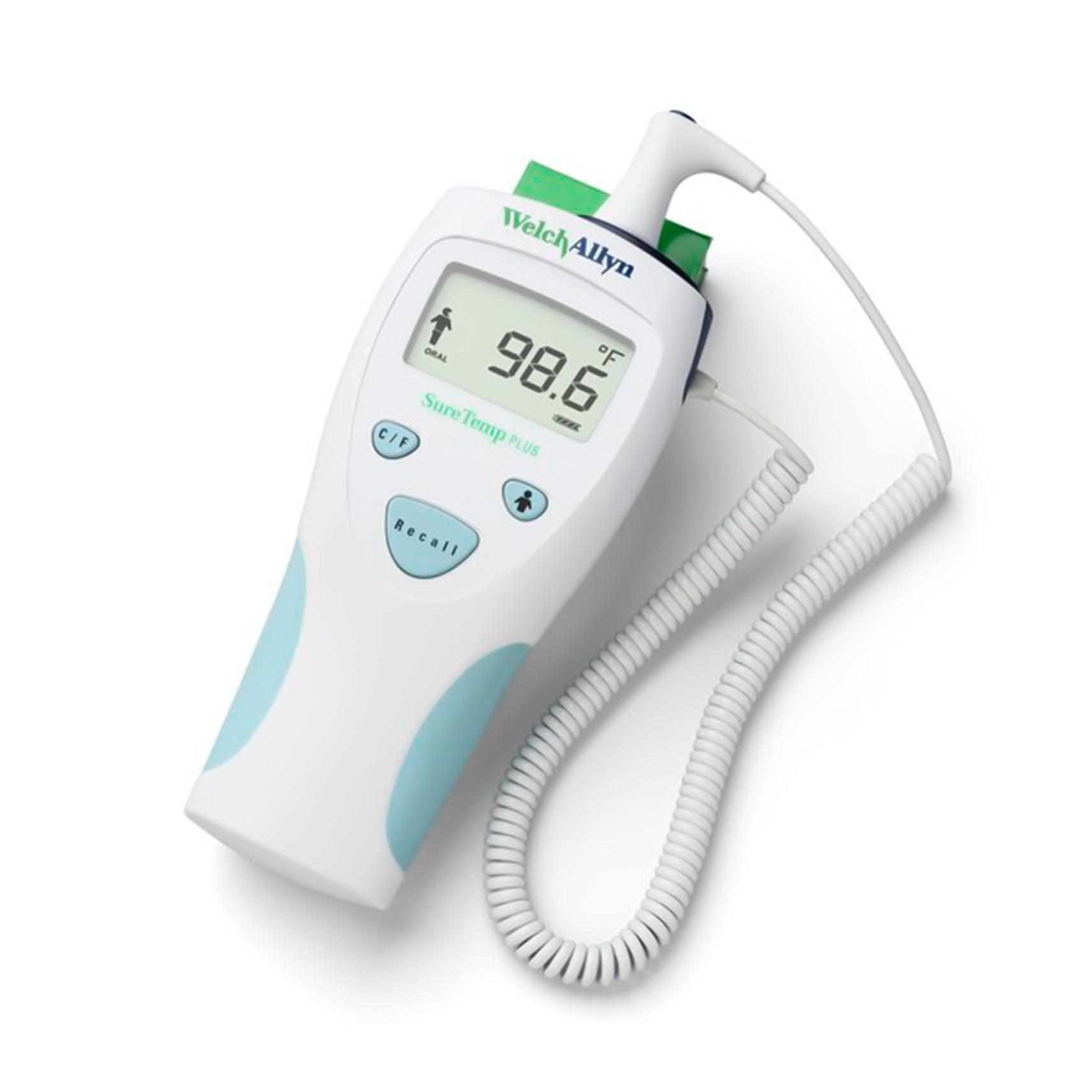 SureTemp® Plus 690
Deliver accurate, repeatable readings on residents with easy-to-use, intuitive operation and large LCD screen.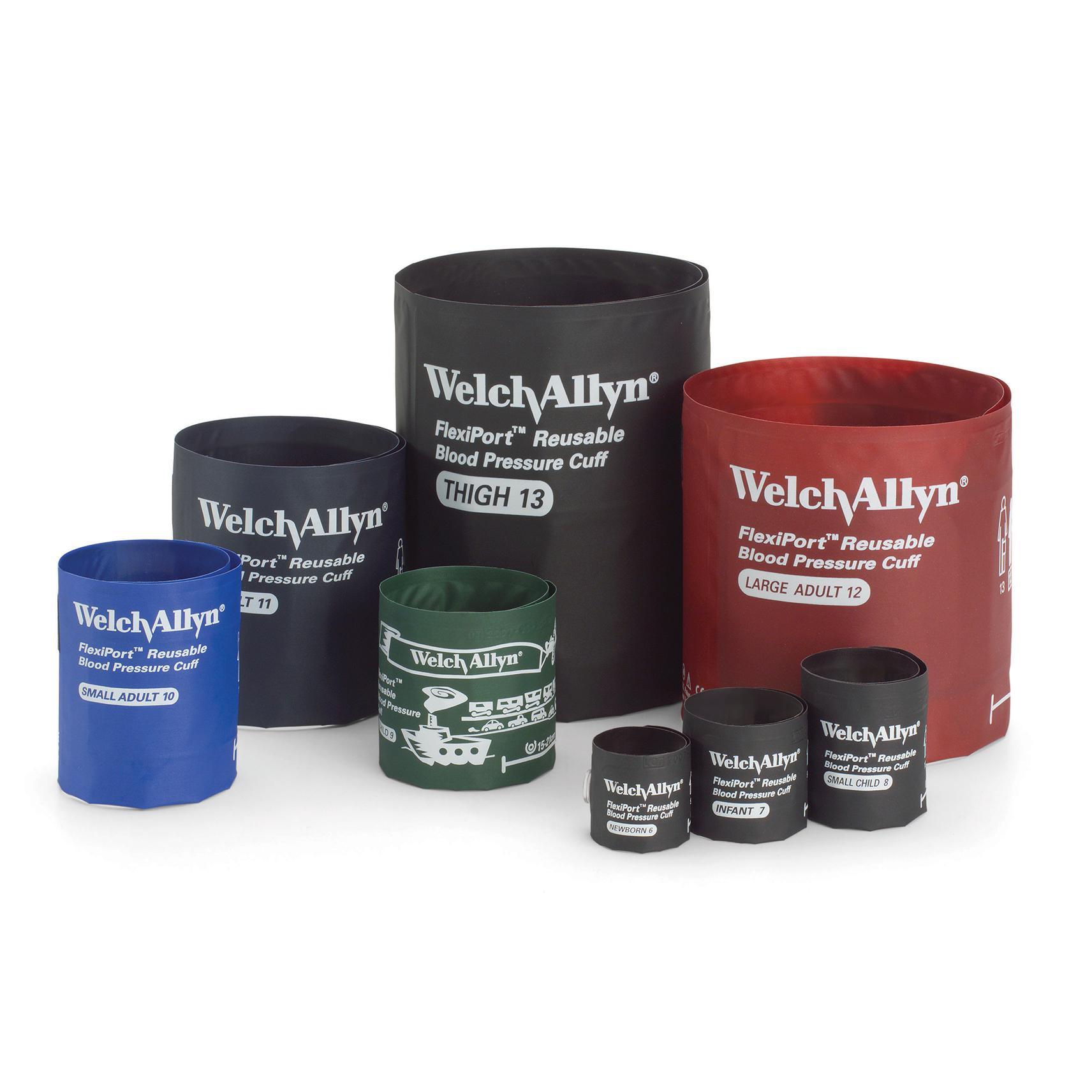 FlexiPort® Reusable Blood Pressure Cuffs
Affordable and easy to use, Welch Allyn FlexiPort Reusable Blood Pressure Cuffs offer all the advantages of FlexiPort technology in a dependable, durable design.