Overview
Features
The Monarch® System is a HFCWO therapeutic device with revolutionary technology. This vest therapy clears the airways by combining mobility with targeted kinetic energy and airflow to thin and mobilize secretions. Because when patients can move about freely during therapy, they can take control of their therapy—and their lives.

Powered by PODs
The Monarch® System features eight pulmonary oscillating discs (PODs) containing magnets, that are anatomically placed over the upper and lower lobes of the lungs. The PODs oscillate and provide a targeted kinetic energy to the lungs. Airflow is generated to help thin and move mucus from the small airways to the large airways, where it can be coughed out or suctioned.
Mobile
A rechargeable battery powers therapy on the move.
Effective
Study shows that The Monarch® System aids sputum production.1
Connected
App & portal help patients and care teams share therapy and spirometry results.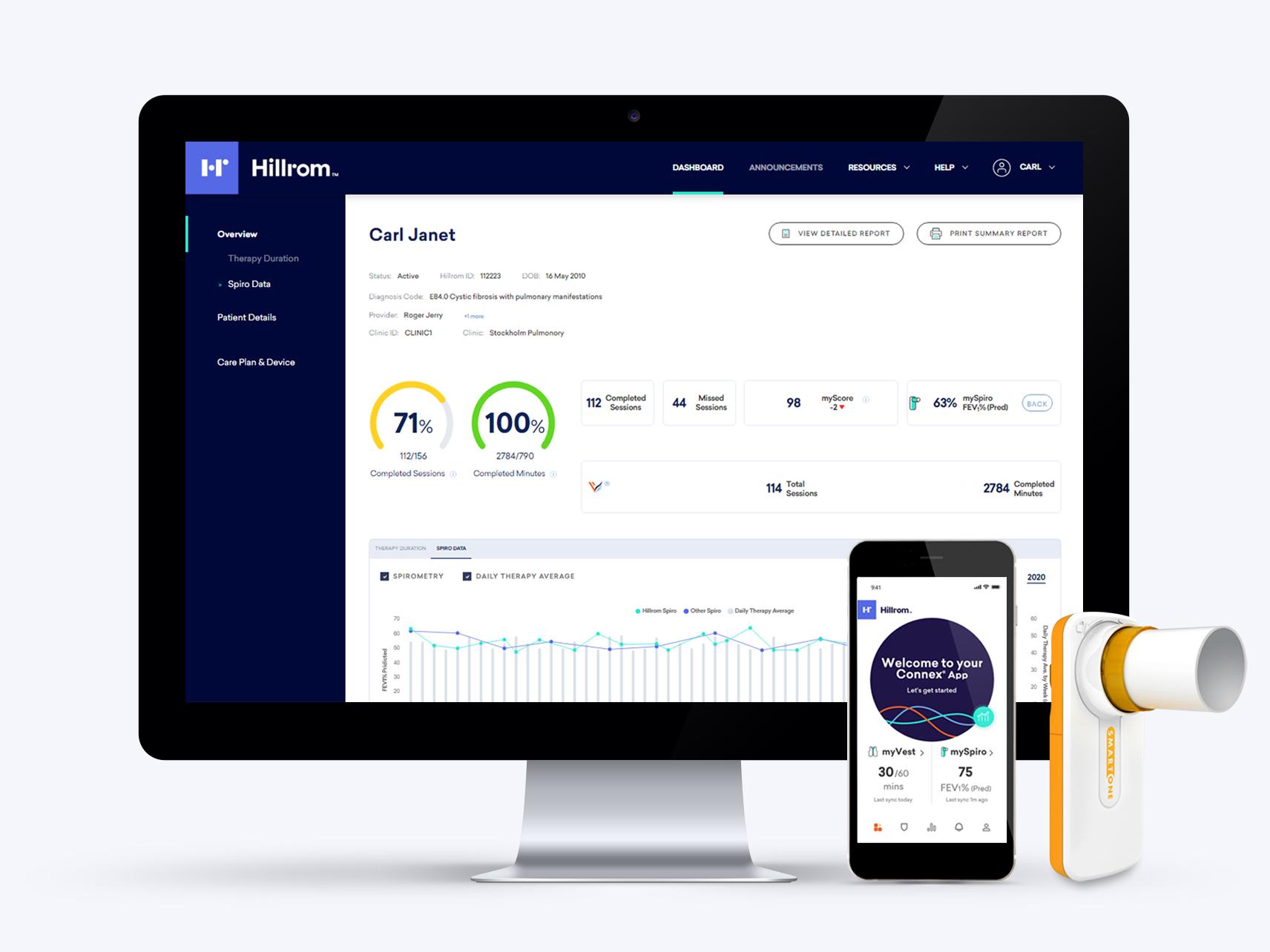 Connection You Can Feel Good About
The Hillrom™ Connex® App and Health Portal help patients and clinicians clearly see day-to-day therapy results, so they can make better decisions together. The app also helps patients keep track of everything from medications and Pulmonary Function Tests (PFTs) to nutrition, exercise and more—rewarding healthy behaviors and empowering them to feel their best. Now using the Smart One® Spirometer, patients can also track lung health at home using the Connex App.
Meet the mind behind the Monarch® System: Marten De Vlieger
Marten De Vlieger and his sister were both born with cystic fibrosis (CF). As they grew up, their mother had to manually administer chest physiotherapy (CPT) to them, to help clear their airways. But Marten envisioned a life with more independence. He created a mobile therapeutic device to provide him with the airway clearance therapy he needed. It freed him to travel, to pursue his love of kite-surfing, to have adventures, and to raise his own family. And when Marten told us that he wanted others to experience the flexibility and control he'd claimed for himself, we gladly partnered with him to develop the Monarch® Airway Clearance System.
Monarch® System 3D Animation Video
See the Monarch® System operation demonstrated in 3D
Monarch® System Development Story Video
Learn how it all began
Technical Specifications
Dig deeper into product attributes to see how we can fit your requirements.
| | |
| --- | --- |
| Weight | 13 lbs. (with battery) |
| Mid-Torso Circumference | Fits 22" to 50" |
| Base Material | EVA foam |
| Shell Material | Polyester |
| Battery | Lithium-ion |
Education & Documentation
Get in the know to get the most value out of your solution.