Skip to Content
https://assets.hillrom.com/is/image/hillrom/Spot-Vision-Screener-left-front-angle-seo-card?$recentlyViewedProducts$
course-detail-page
knowledge
2021 AAPOS Guidelines for the Welch Allyn Spot Vision Screener
As instrument-based pediatric vision screening technology has evolved, the American Association for Pediatric Ophthalmology and Strabismus (AAPOS) has developed uniform guidelines (2003, updated 2013) to inform the development of devices that can detect specified target levels of amblyopia risk factors (ARFs) and visually significant refractive error.* In 2021, the AAPOS Vision Screening and Research Committees revealed an apparent high level of over-referral for non-amblyopic, symmetric astigmatism, prompting the current revision.1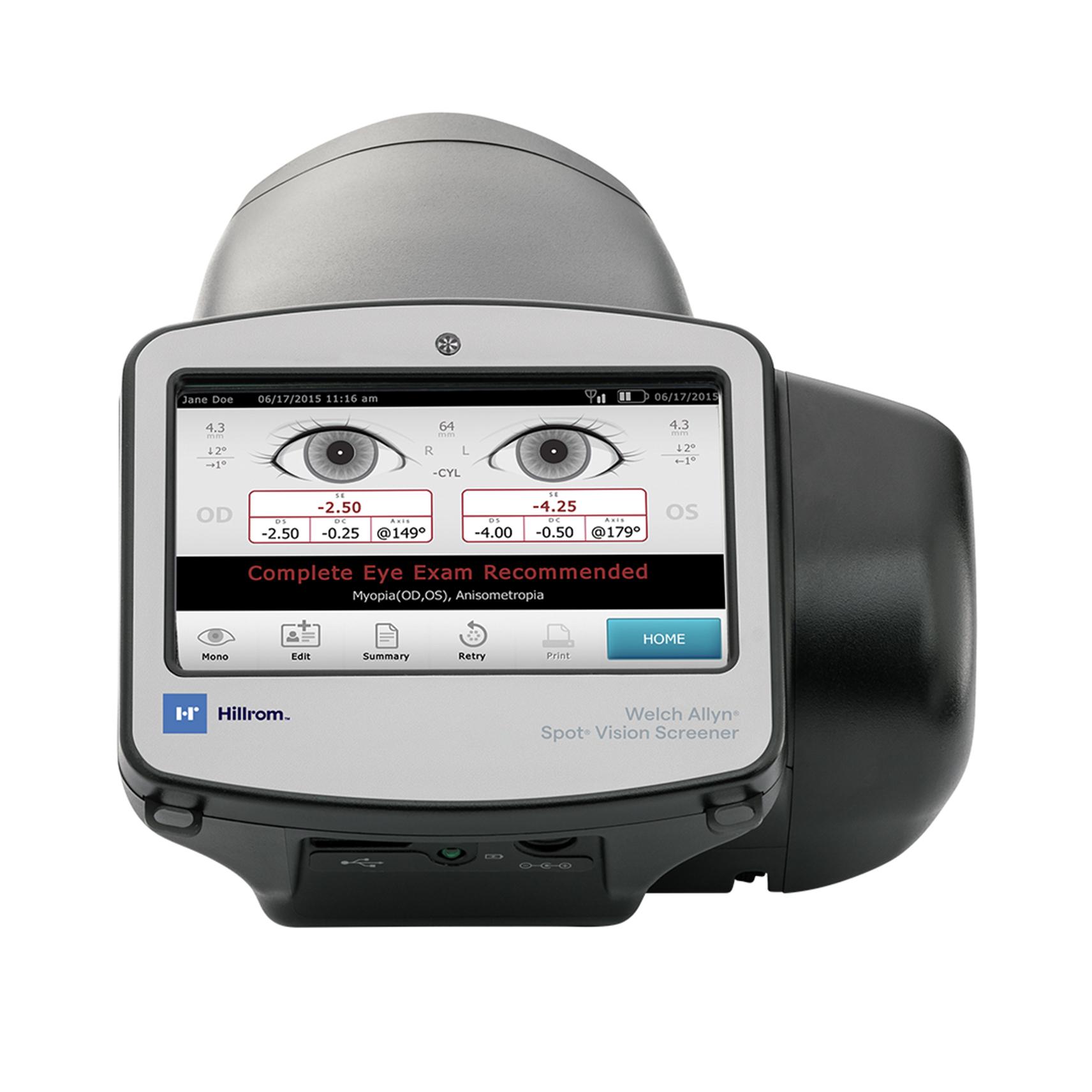 The Spot Vision Screener criteria was developed in accord with the American Academy of Pediatric Ophthalmology and Strabismus (AAPOS) and American Academy of Pediatrics (AAP) recommendations for instrument-based vision screening. The criteria is age specific to assist with early detection of amblyopic risk factors in children.
To update your Spot Vision Screener to include the latest guidelines, please download the file below and follow these instructions:
Download the latest AAPOS Guidelines .CSV file
Insert a USB 2.0 drive into your computer.
Copy the SpotCriteria.csv file to the top level on the USB drive. The file cannot be within a folder.
Eject the USB drive from your computer and insert into the vision screener.
Touch Tools, then touch Import/Export.
Touch Import to import the updated criteria file.
To verify the file was imported successfully, touch Tools, then touch Criteria. Review the new settings.
To revert to the default criteria shipped with the device, touch Restore twice. This will delete custom criteria from the vision screener and restore the default criteria.
For assistance updating your vision screener criteria, please contact technical support:
Email: technicalsupport@hillrom.com
Phone: (800) 535-6663, Option 2
* 2021 AAPOS did not have recommendations for children under 12 month or over 60 months for anisometropia, hyperopia, and strabismus.
References
Robert W. Arnold, MD,a Sean P. Donahue, MD, PhD,b David I. Silbert, MD,c Susannah Q. Longmuir, MD,d Geoffrey E. Bradford, MD,e Mae Millicent W. Peterseim, MD,f Amy K. Hutchinson, MD,g James W. O'Neil, MD,h Alejandra G. de Alba Campomanes, MD, MPH,i and Stacy L. Pineles, MD, MS,j on behalf of the AAPOS Vision Screening and Research Committees. AAPOS uniform guidelines for instrument-based pediatric vision screen alidation 2021. https://www.jaapos.org/article/S1091-8531(22)00009-X/pdf. Accessed: October 17, 2022.
Hillrom, Spot and Welch Allyn are trademarks of Baxter International Inc. or its subsidiaries. ALL RIGHTS RESERVED. APR430101 Rev 1 30-NOV-2022 ENG-US