Simple
A streamlined barcode workflow helps eliminate manual data entry steps, and the Wireless Acquisition Module (WAM) provides untethered ECG capture to make exams easier for you and more comfortable for patients.
Secure
Protect patient information, and your network, with data encryption and additional security features approved by the U.S. Department of Defense (DoD).

Connected
Securely send patient information to the data management system or EMR of your choice through standards-based protocols like PDF, XML, HL7 or DICOM.

Designed with Your Needs in Mind

The ELI 380 ECG is built to make your overall exam experience more efficient for improved patient care. Help simplify your workflow by decreasing the time needed to perform an exam, while increasing data accuracy and delivering secure EMR connectivity.
ERGO Design
Infection Control Features
Government-Level Security
"Best 10" Technology
Wireless Acquisition Module
VERITAS® Interpretation Algorithm
Accurately Identify Critical ECGs
According to a recent study, Hillrom's proprietary VERITAS Interpretation Algorithm recognizes and alerts for Critical ECGs associated with Acute Coronary Syndrome (ACS) better than the competition.* The VERITAS Algorithm is also most likely to detect arrhythmias with the highest sensitivity.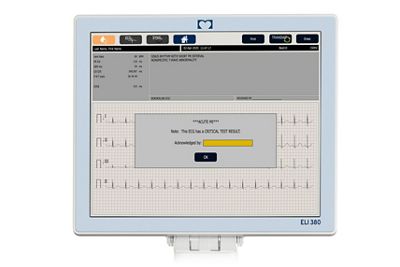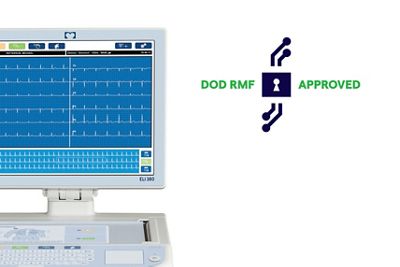 Secure Patient Data and Your Network
With the only system allowed to operate on the U.S. Department of Defense (DoD) Network
Our ELI 380 ECG is the only resting ECG to meet the strict protocols of the U.S. DoD's Risk Management Framework (RMF) and to earn an Authority to Operate (ATO) the most secure network in the nation. Data encryption and enhanced security features help keep patient information—and your network—secure.

Improving Clinician Workflows with an Intuitive, User-Friendly Design Solution
"
Having an ECG device that incorporates an intuitive user interface and promotes an efficient workflow is critical for maintaining our staff's satisfaction and productivity. The ELI 380 [ECG] does just that. [The ELI 380's] ability to automatically download patient demographic information and transmit results is a significant workflow improvement. Any time we can eliminate steps and reduce manual data entry is a win for us and ultimately our bottom line.
"
Christopher S. Bowlin, MBA BAHS Cardiopulmonary Manager at Platte Valley Medical Center
Streamline your clinical workflows with the ELI 380 ECG
Freedom to Move with the Wireless Acquisition Module (WAM™)
Our WAM allows you to capture an ECG without a wired connection between the patient and device. This is especially important for infection control, allowing safe ECG capture for isolated patients.
Help reduce errors and manual data entry with a barcode workflow
Eliminate the need to manually enter patient demographics into the device. Instead, simply scan the patient's wristband and download their information from your EMR to reduce manual data entry errors in the system.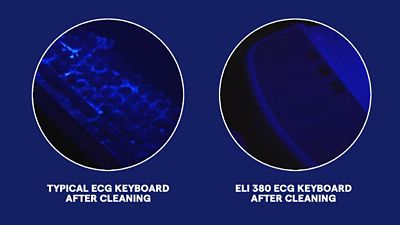 An easy-to-clean glass keyboard helps you meet infection control protocol requirements
The impact-resistant, glass keyboard takes 40% less time to clean than a traditional keyboard and allows you to remove 60% more residue upon cleaning to help reduce the risk of cross-contamination.**
Freedom to Focus on Your Patients
Freedom to Focus on Your Patients
Imagine an ECG workflow that gives you the freedom to securely access the patient information you need and reduce the manual steps on every ECG.
Connect with Us Today
Contact your Hillrom representative today if you're interested in learning more or scheduling a full software demonstration.
References
*J. De Bie et al. Performance of seven ECG interpretation programs in identifying arrhythmia and acute cardiovascular syndrome. Journal of Electrocardiology 58 (2020) 143–149. https://doi.org/10.1016/j.jelectrocard.2019.11.043
** Burke, Tucker: Microchem laboratory study NG1035-A2; Cleaning validation of ECG machines with Clorox towelette, 2014