A special homecoming for Aiden.
For Aiden, who lives with a neuromuscular condition, the Volara system has made all the difference—including his first Christmas with his adoptive family. Watch his story.
Reducing hospitalizations for Samantha and Arianna.
Living with cerebral palsy, these young adults also suffered from recurrent pneumonia, hospitalizations, and chronic respiratory failure. The Volara system has had a positive impact on their overall health. Watch their story.
Hospital-level airway clearance therapy for home use.
OLE therapy, delivered by the Volara system, expands the lungs and moves mucus from the airways. Proven1 in the hospital, it's highly effective airway clearance therapy that takes just 10 minutes to deliver. With the Volara system, patients with chronic conditions can get the individualized treatment they need at home, with physician-prescribed presets that make therapy easy to follow.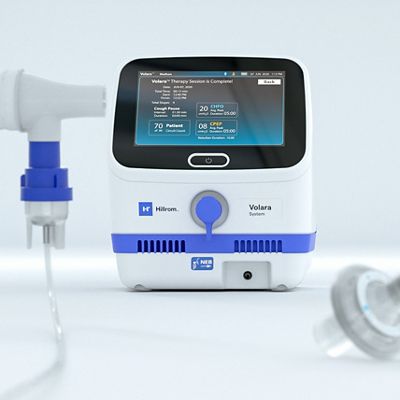 Brochure and prescription form downloads
Lightweight and portable
Personalized presets
Easy-to-use touchscreen
Personalized presets

Continuous Positive Expiratory Pressure expands the lungs and holds the airways open.

Continuous High Frequency Oscillation loosens and moves mucus from the small airways to the large airways.

Delivers medication that helps loosen mucus and enhances therapy efficiency.
Have a question about the Volara system?
Fill out this form to have a Hillrom representative reach out.
References
Huynh TT, Liesching TN, Cereda M, Lei Y, Frazer MJ, Nahouraii MR, Diette GB, Efficacy of Oscillation and Lung Expansion in Reducing Postoperative Pulmonary Complication, Journal of the American College of Surgeons (2019).
Volara is a registered trademark of Baxter International, Inc. or its subsidiaries.