Hospital-level airway clearance therapy for home use.
Proven1 in the acute care setting to deliver outstanding clinical and economic outcomes, the Volara® System is an OLE device that now can be used at home. Indicated for the mobilization of secretions, lung expansion therapy, and the treatment and prevention of pulmonary atelectasis, the Volara® System offers 3-in-1 versatility for chronic patients.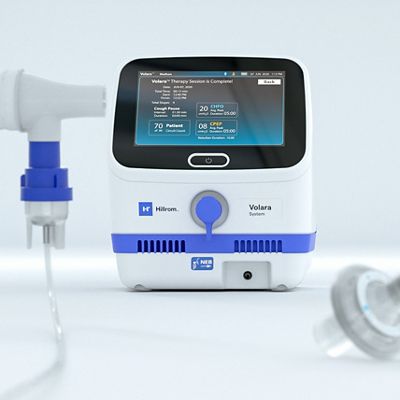 Continuous Positive Expiratory Pressure treats and helps prevent pulmonary atelectasis by combining continuous positive pressure with nebulizer therapy, to help expand and hold the airways open.

Continuous High Frequency Oscillation, a pneumatic form of chest therapy, delivers continuous pulses of positive pressure combined with nebulizer therapy to mobilize and treat retained secretions.

Integrated with CPEP and CHFO for maximum treatment efficiency, medication is delivered during therapy to help loosen secretions.
A special homecoming for Aiden.
For Aiden, who lives with a neuromuscular condition, the Volara® System has made all the difference—including his first Christmas with his adoptive family. Watch his story.
Reducing hospitalizations for Samantha and Arianna.
Living with cerebral palsy, these young adults also suffered from recurrent pneumonia, hospitalizations, and chronic respiratory failure. The Volara® System has had a positive impact on their overall health. Watch their story.
A full recovery from COVID for Colleen.
A respiratory therapist, Colleen fully realized the positive impact of the Volara® System when she was a patient who benefited from its use. Watch her story.
Want to learn more about the Volara® System?
Simply complete this form and we'll contact you for a demonstration.
Lightweight and portable
Physician-prescribed presets
Intuitive touchscreen interface
Broad range of adaptors
Proven in the hospital, now for the home.
Tested and proven1 in acute care settings, OLE therapy has been shown to provide outstanding clinical outcomes.

Reduction in hospital length of stay1

Reduction in time on ventilator1

Reduction in ICU length of stay1

Overall relative reduction in postoperative pulmonary complications.1
References
Huynh TT, Liesching TN, Cereda M, Lei Y, Frazer MJ, Nahouraii MR, Diette GB, Efficacy of Oscillation and Lung Expansion in Reducing Postoperative Pulmonary Complication, Journal of the American College of Surgeons (2019).